CHRONICLE NEWS
Website is best using Firefox or Chrome - download here or here.
Canyon Alumni Parents and Kids • click here
Canyon has the highest API of K-5 in LAUSD - Read more from the Palisades Post!
Neighbors? Please consider donating to our school- Read more.
Canyon community members, please sign up to deliver neighborhood residential letters to help Canyon achieve our fundraising goals.
---
Check out these AWESOME PARENT PARTIES!
---
Shopping on Amazon? Click on the link below and Canyon School will benefit.
Amazon Home Page
Earn $$ for our kids with every purchase you make! Everything you need to know is here on our new Power Purchases Programs page! Considering becoming a Canyon Partner?
---
After School Policies: Read about Canyon's new 10 min. "Check In" read more>>
Beyond the Bell Authorization Form (2nd - 5th grades only)
---
Learn about Canyon's Lice Policy and what you can do to prevent and treat this common childhood nuisance.
---
Canyon's Tax-Exempt Status Letter from the IRS
Canyon's Non-Cash Donation Receipt for IRS
---
Canyon Care and Support Committee: Do you or does a fellow parent have the need for some support from the Canyon Community?
Click here to learn more.
---
Have you heard about our amazing Canyon Partners? We invite you to support the businesses that support our school.
---
Learn about the Native Habitat Program.
---
Updated information now available on the computer programs your child uses at school and how you can access from home:
Each teacher uses these resources differently, some assign for homework, others make it optional. Parents can speak to their child's teacher to find out more information about their child's class. A bonus this year is the ability to use ST Math on a mobile tablet (IPad 2 or 3, Android Tablet, or Kindle Fire).
---
Check out a great new after school fitness and empowerment program for girls in grades 3 to 6: Girls on the Run
---
LIKE US ON FACEBOOK!

---
GREEN TENNIS SHOE AWARD" is back!
In an effort to reduce Canyon's carbon footprint, as well as traffic congestion, the "GREEN TENNIS SHOE AWARD" is back! Every Friday, the classroom with the highest percentage of kids who walked, biked, rode the bus, carpooled, or used some other form of "GREEN" transportation to get to school that day will receive the "GREEN TENNIS SHOE AWARD" for the week!!!
---
PLAY GROUND RULES: Please be reminded that after school use of the apparatus is only allowable if children are directly supervised by a student's parent/guardian. The playground apparatus will now be available immediately after school. Please remember that in LAUSD the playground apparatus may only be used after school with direct parent/guardian supervision. I appreciate your supporting and following school policy. These policies are in place to keep students safe and prevent unnecessary injuries. Joyce Dara
Please complete this form if your child participates in the afterschool program.
---
Canyon Charter School Handbook Links
---
If you have a submission for The Chronicle weekly email, the deadline each week is Wednesday. Please submit to: chronicle@canyoncharter.com.
To read past issues of the Chonicle and othe notices, click here.

---
Canyon School Booster Club pays for the creation and management of this site run by volunteer parents. We are a 501(c)(3) non-profit organization and our Federal TAX ID # is 95-3892191. This is not an official LAUSD site. Please visit the Canyon Elementary LAUSD Site for information about our school published by LAUSD.
CURRENT EVENTS
March 3 - 7- Parent Teacher Conferences, Early Dismissal, 1:45 all week
March 3 - 7, Book Fair, 7:30a-3:00p (closed during lunch)
March 9, Sun. Daylight Savings, L.A. Marathon
March 11, Tues. Monthly Assembly + Canyon Gear Sale, 8:30am
March 12, Wed. Class photos and Panorama, CPK Fundraiser (print & take the flyer)
March 13, Booster Club Mtg. Library, 8:15am
March 16-29, The Yogurt Shoppe fundraiser, 5-7pm
March 20, GB Committee Mtgs. 2pm We're counting on YOU to participate!
March 27, SSC Mtg., 1:45pm, Governing Board Mtg, 2pm, Room 9
March 31, No school, Cesar Chavez Day
April 6, FIESTA! Canyon Gear for sale
April 8, Monthly assembly, Canyon Gear for Sale
April 10, Booster Club Mtg., 8:15am, library,
April 10, Committee meetings, 2pm All GB Parent Class Reps are expected to attend
April 13, SPRING BREAK
April 21, School Resumes
MESSAGE FROM JOYCE DARA
As Canyon teachers embrace the Common Core State Standards your child's attendance is more critical than ever.
In LAUSD the Common Core Standards have been adopted in collaboration with a new Teaching and Learning Framework. The way teachers teach and how students learn has changed. In concert with clear expectations for reading, writing, speaking, listening, language and mathematics, the expectations outlined in the CCSS include the development of students' abilities to think critically, reason, communicate effectively, and solve problems that arise in everyday life, society, and the workplace. Student to student interactions and group collaboration will dominate a good part of daily instruction. Strong attendance rates will be critical for student success.
Fall is here and with the change of weather our yard fills up with clothing!
The mornings are frequently cool but the afternoons often warm up substantially and with this change of weather, comes the shedding of clothing! Unfortunately, children often forget their jackets and sweaters on the yard and our Lost and Found begins to overflow.
Please take a moment to remind your child to try to remember to come home with what they came to school wearing.
And, please remember to check the Lost and Found frequently. Any clothes and/or items left for a few weeks will be donated to Charity.
Thank you,
Joyce Dara, Principal
Please visit my blog
ANNUAL GIVING
Annual Giving is a term you will hear throughout your time at Canyon Charter School. It's our year-long campaign to build our fund that supports all the enrichment programs that make this school such an esteemed, highly ranked local southern California public school, truly a gem in the LAUSD system.
Throughout the year, you will see our requests to support this campaign, as we intend to recruit each and every family to do their part in securing the incredible reputation this school has earned. It's an invaluable circular relationship, as the involvement and fundraising efforts of all the committees at Canyon Charter School lead to an enviable endowment every year providing the most excellent public education environment to our children – which in turn attracts more and more involved and caring families to join our school roster, and even local businesses to support and uphold our promise to the neighborhood. It's a relationship that needs constant feeding, but reaps our children and our community immense rewards.
Donate to Annual Giving now at the online store or print out the donation form and bring it into the school office.
We're looking for 100% participation.
Questions? Email your Annual Giving Committee at: annualgiving@canyoncharter.com
SPRING BOOKFAIR
The Spring Book Fair starts Monday!
DATES: Monday, 3/3 - Friday 3/8
HOURS: 7:30AM - 3PM (closed during lunch hours)
Special event on Wednesday 3/5
Our very own Canyon mom Tierney Gearon will sign her new book, Alphabet Book
There's a few volunteer slots that still need to be filled. Come join us!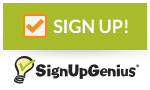 STUDENT WISH LISTS: Come visit us and see the student wish lists your children have created. All the current popular titles will be there.
TEACHER WISH BASKETS: There will be teacher wish baskets for Kindergarten through 2nd grade only this spring. Each K-2nd teacher, Barbara and the resource center will peruse the books and gather a selection of titles they wish to have for their classrooms. These titles will be placed in their own basket for you to choose if you would like to donate a book. We will give you a dedication sticker, so your family name can "remain" in the classroom through the years!
In a hurry? Our wonderful and dedicated volunteers can help you locate the books listed in the various wish lists!
Don't have time to look at the wish list? Tell us how much you want to spend and for whom, and we will take care of everything for you! We can even deliver the books for you!
The Book Fair is not only a wonderful community event that our children look forward to, but it is also a fundraiser for Booster Club. All the money raised by Booster Club goes directly into the classroom to benefit our children.